The Sunday Times and Channel 4's Dispatches published their joint investigation on Saturday accusing Russell Brand of rape, sexual assault and abuse. 
Four women alleged Brand assaulted them between 2006 and 2013.
This period marks the height of Brand's fame – he was a presenter for the BBC and Channel 4 before becoming a high-profile Hollywood star.
The comedian vehemently denied "very serious criminal allegations" in a YouTube video on Friday night, claiming his relationships were "always consensual".
Here are the allegations against him in full.
Warning: This article contains details of a graphic nature that readers may find distressing
'Grooming and sexually assaulting a 16-year-old'
Alice – not her real name – alleged she had a sexual relationship with Brand aged just 16 and that he sexually assaulted her.
Brand, who was 30 at the time, sent cars to Alice's school to collect her from lessons so they could have sex at his home, she said.
He became increasingly controlling during the relationship, Alice said, and encouraged her to lie to family and friends about the relationship, even instructing her to save his number under the name "Carly" to avoid suspicion. She says Brand's management also told him to keep their relationship private.
She also alleged that he removed a condom during sex without her knowledge.
"Russell engaged in the behaviours of a groomer, looking back, but I didn't even know what that was then, or what that looked like," she said.
While in bed with Brand, Alice says the comedian forced his penis into her mouth to the point she was unable to breathe.
"I was pushing him away and he wasn't backing off at all," she said.
"I ended up having to punch him really hard in the stomach to get him off. I was crying and he said, 'Oh, I only wanted to see your mascara run anyway'."
How the Brand allegations came out

After this, he held her mouth open, drooled into it, and then held her mouth shut, forcing her to swallow his spit and leaving her "gagging and crying".
Alice also told the investigation that Brand found it arousing that she was a virgin, called her "the child" and "my little dolly" and asked her to read the 1955 novel Lolita by Vladimir Nabokov about a professor sexually obsessed with pre-pubescent girls.
'Raping a businesswoman in LA'
Nadia, who did not use her real name to protect her identity, said Brand raped her at his home in LA in 2012.
They previously had consensual sex but Nadia said he had a "glazed over" look during the encounter.
In the early hours of 1 July 2012, Brand pleaded with her to visit his house.
When she got there, he asked her to join him and a "friend" for a threesome in his bedroom, she alleged.
When she refused, Nadia said Brand pushed her against a wall and raped her without using a condom.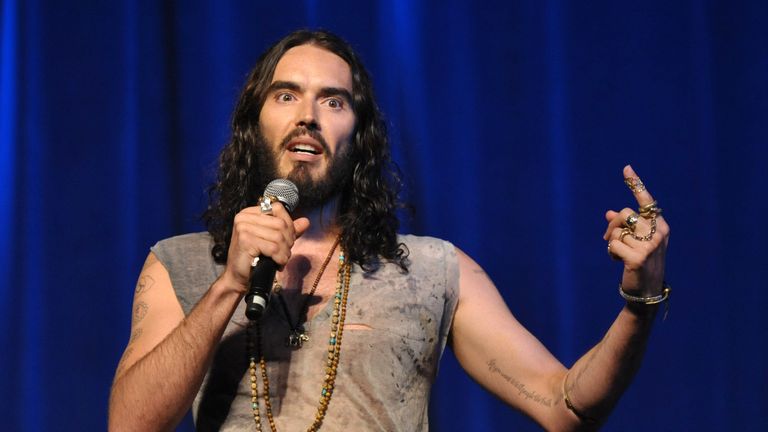 After escaping his house, she said Brand sent her a text at 3.29am, which said: "I'm sorry. That was crazy and selfish. I hope you can forgive me, I know that you're a lovely person. X."
She said she ignored a call from him but texted him the following morning to say he had "scared the s***" out of her, adding: "When a girl say(s) NO it means no."
Brand replied he was "very sorry" and "embarrassed" by his behaviour, The Times reported.
Nadia provided the team of journalists with her medical records from a rape treatment centre she went to after the rape, as well as therapy records.
Several months later, she said she wrote to Brand, saying: "You completely broke me down."
Brand 'fired woman who worked for him after sex assault'
Phoebe – not her real name – had a brief consensual relationship with Brand after they met at an Alcoholics Anonymous meeting in 2013, she said.
He later hired her for a project they worked on together.
During this time, Phoebe said she became "trapped" in a bedroom in Brand's home and he started chasing her around the room.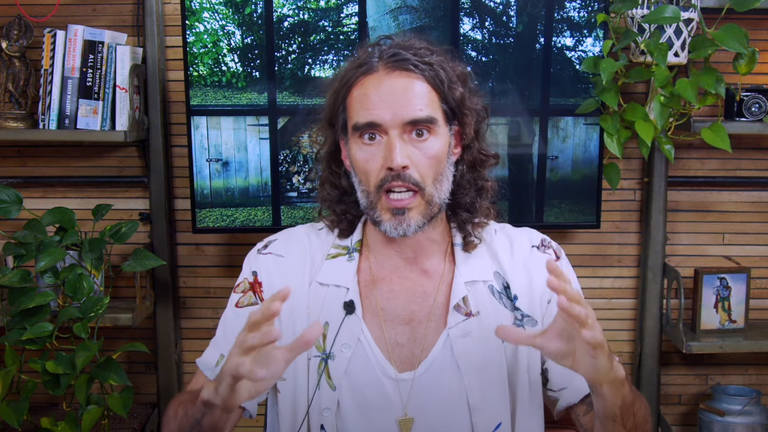 Brand, who was naked, "grabbed me and got me on the bed" and tried to forcibly remove her clothes.
She said: "I was screaming, and I was like, 'What are you doing, stop, please, you're my friend, I love you, please don't do this, I don't want to do this'. I think he had his hands down my trousers but I was fighting so hard and I was screaming so hard, hoping that I could get through somehow."
When the assault ended, Phoebe said Brand became "super angry" and shouted "f*** you" and told her she was fired.
She ran out of his house barefoot, running into a group of people outside who had arrived for a business meeting, Phoebe said.
One of the people in the group apologised to Phoebe years later, she claimed.
She said: "He pulled me aside and he said to me, 'I have never forgiven myself for not running in that house to save you. I heard you screaming. And I didn't know what to do. And we were all so scared of him and I didn't do anything. And I am sorry'."
Phoebe continued working with Brand but she said he "cornered her" and threatened legal action when he discovered she had told friends about the alleged assault.
'Sexually assaulted ex-girlfriend'
Brand's former girlfriend Jordan Martin did not provide an account to the journalists working on the investigation due to "personal family circumstances" but confirmed to the team that she stood by allegations she made in a self-published book.
The former model had a six-month relationship with Brand in 2007.
In her book, she detailed an alleged sexual assault at The Lowry Hotel in Manchester between Dina and Randall Grand – pseudonyms she used for herself and Brand.
Ms Martin said the comedian became angry when he found out she had spoken to an ex-boyfriend.
He then grabbed her phone and assaulted her in the bathroom, sliding his hand into her underwear, she claimed.
Brand arrives at gig after sex assault claims

She said she was "not ready for this intrusion" and did not find it "sensual or pleasant".
Brand also forced her to brush her teeth so hard that it made her gums bleed so she would taste "anonymous" to him, Ms Martin said.
She wrote that Brand "pushes boundaries, controlling other people to fulfil personal perversions for the sake of dominance".
"There were times when I felt bullied and abused, not in a physical or sexual way, but mentally. I was vulnerable… His manipulative side was so powerful it was easier to just submit."
Brand has never disputed Ms Martin's account in her book.
'Offered naked assistant to Jimmy Savile'
Dispatches and The Times also detailed other disturbing behaviour in the documentary – including inappropriate comments made to paedophile Jimmy Savile.
On his radio show in 2007, Brand spoke with Savile, who said they could meet if Brand brought his sister.
The comedian said he didn't have a sister but offered to bring his assistant naked to the meeting.
"I've got a personal assistant, and part of her job description is that anyone I demand she greet, meet, massages, she has to do it. She's very attractive, Jimmy," Brand is claimed to have said.
Savile died in 2011 aged 84.
More than 450 allegations of sexual abuse against children were reported to police after his death.
Read more:
Brand denies claims
Comedian tells fans at gig there are 'things he can't discuss'
From drug addict to star often at centre of controversy
'Flashing junior staff'
Brand's personal assistant between 2006 and 2007 also alleged he showed friends intimate pictures of women.
Brand also instructed the assistant, Helen Berger, to procure women for him to have sex with from audiences on shows he presented, she claimed.
She also said Brand often wore only underwear around her and had a "very active sex addiction".
Meanwhile, a production runner on Big Brother's Efourum said Brand flashed her on set and insinuated she "might like to suck his d***".
She added: "I was incredibly shocked. I wasn't going to tell anyone what he'd done because I didn't want to lose my job."
She later had consensual sex with him but he insisted she had to keep it a secret.
"As an older woman I can say with clarity I felt like I was groomed for sex," the runner said.
"Production companies enabled him to exist in environments where he was able to take advantage of who he was."
Another crew member said she raised a separate complaint with a colleague about Brand's sexual pursuit of audience members on his shows.
The crew member said women often phoned her in tears "because they felt used".
"I don't know what went on once they left the studio," they added.
She said it felt she was a "pimp to Russell Brand's need" and that they "were taking lambs into slaughter".
Brand denies 'serious allegations'

Brand denies allegations 'absolutely'
Denying the allegations in a video posted online ahead of the publication of the claims, Brand said he was facing a "litany of extremely egregious and aggressive attacks".
The 48-year-old said: "These allegations pertain to the time when I was working in the mainstream, when I was in the newspapers all the time, when I was in the movies and as I have written about extensively in my books, I was very, very promiscuous.
"Now during that time of promiscuity, the relationships I had were absolutely, always consensual. I was always transparent about that then, almost too transparent, and I am being transparent about it now as well.
"To see that transparency metastasised into something criminal, that I absolutely deny, makes me question – is there another agenda at play?"