Liz Truss is set to urge the government to cut taxes – and insist her plan to grow the economy would eventually have worked.
A year on from her disastrous mini-budget, the former Tory prime minister will also say it was unfair to suggest her programme of tax cuts, amounting to £45bn, was unfunded.
She and her chancellor, Kwasi Kwarteng, were in a "rush" to get "results", she will admit during a speech at the Institute for Government thinktank in central London on Monday.
But Ms Truss will also blame her swift demise on reaction from the "political and economic establishment which fed into the markets".
Her remarks come after the former governor of the Bank of England, Mark Carney, launched a scathing attack on Ms Truss – accusing her government of turning Britain into "Argentina on the Channel".
In her speech, Ms Truss will say: "I was effectively forced into a policy reversal under the threat of a UK meltdown."
She will also claim that describing her planned tax cuts as unfunded is "not a fair or accurate description".
Ms Truss will add: "Independent calculations by the Centre for Economics and Business Research suggest that cutting the higher rate of income tax and the 'tourist tax' would have increased rather than decreased revenues within five years.
"So quite the opposite of being unfunded, these tax cuts could have increased funding for our public services."
Truss's time as PM, one year on

The policies of her successor, Rishi Sunak, will come under fire too.
Ms Truss, who was in office for only 49 days, will claim Mr Sunak's government has spent £35bn more than she would have had she remained in Downing Street.
"Investment would not have faltered in the North Sea, were it not for the windfall tax," she will say.
"We would have got moving on fracking and lower energy bills would now be on the horizon.
"A more competitive rate of corporation tax would have persuaded the likes of AstraZeneca not to relocate elsewhere.
"There would have been more duty-free shoppers and a boom in the number of self-employed."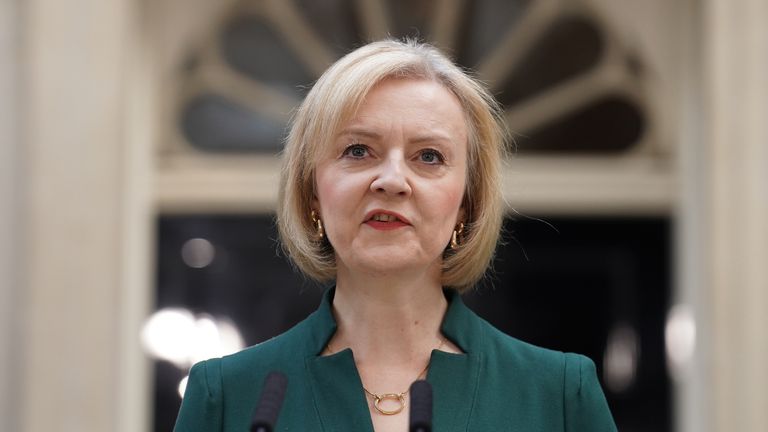 Read more:
Kwasi Kwarteng feels 'let down' by Liz Truss
Starmer fails to rule out Labour tax rise
Ahead of Chancellor Jeremy Hunt's Autumn Statement, Ms Truss will call for corporation tax to be reduced back down to 19%.
She will also suggest binning the tourist tax (VAT imposed on visitors) and abolishing the windfall tax.
Ahead of her address, Labour frontbencher Jonathan Ashworth has written to the prime minister, calling on him to block Ms Truss's yet-to-be published resignation honours list.
In the letter to Mr Sunak, Mr Ashworth said: "Families and business across Britain are still paying (the) price for the Conservative Party crashing the economy and leaving working people worse off, with higher taxes, higher mortgages and higher food and energy bills.
"Despite this, it has been widely reported that Liz Truss has submitted up to 14 people to receive resignation honours.
"This means that those who crashed the economy, who left millions to pay more for their mortgage and who undermined our economic institutions could receive an award.
"I urge you to block these honours."
Liberal Democrat deputy leader Daisy Cooper mocked Ms Truss.
She said: "Liz Truss giving a speech on economic growth is like an arsonist giving a talk on fire safety."