Donald Trump has faced questions on US television about his current legal woes and what he would do if he wins the presidency for a second time.
He is currently favourite to claim the Republican nomination and take on the Democrats in November 2024.
Here are 10 key takeaways from the wide-ranging Meet The Press interview on NBC.
1. Ukraine and how to end the war
Mr Trump did not spell out exactly how he would pursue the end of the war between Ukraine and Russia "because if I did… I lose all my bargaining chips".
"But I would say certain things to [Vladimir] Putin. I would say certain things to [Volodymyr] Zelenskyy, both of whom I get along," he added.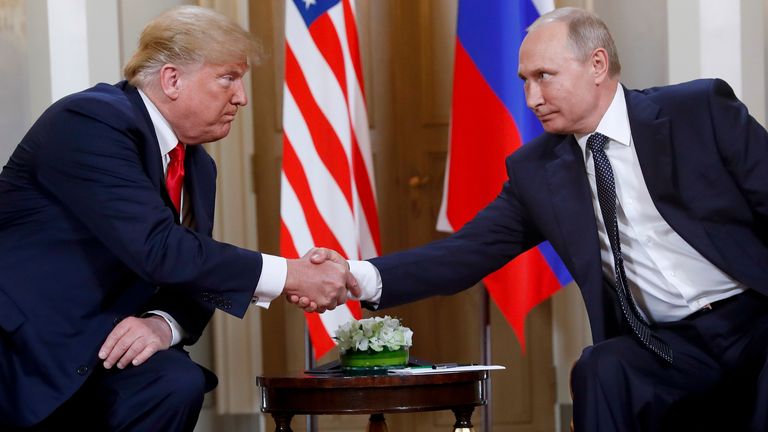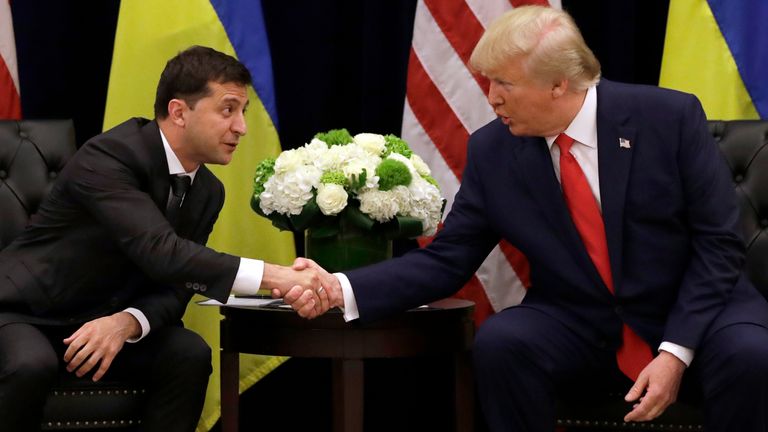 Asked if he would push for a deal that allowed the Russian president to keep Ukrainian territory, Trump said "no, no, no, no".
"I'd make a fair deal for everybody," he said.
2. Appreciation for Putin comment
Mr Trump expressed appreciation for a remark Putin recently made.
The Russian leader said: "We surely hear that Mr Trump says he will resolve all burning issues within several days, including the Ukrainian crisis. We cannot help but feel happy about it."
In response, Mr Trump said: "Well, I like that he said that.
"Because that means what I'm saying is right. I would get him into a room. I'd get Zelenskyy into a room. Then I'd bring them together. And I'd have a deal worked out. I would get a deal worked out. It would've been a lot easier before it started."
Mr Trump has long declined to overly-criticise Mr Putin, and in February 2022 he called the Ukraine invasion "genius" and "savvy".
3. Trump won't rule out sending troops to Taiwan if China invades
Mr Trump said the option of sending US forces to defend Taiwan against China remains open.
But he would not commit to this policy, unlike Democrat President Joe Biden.
"I won't say. I won't say," Mr Trump said. "Because if I said, I'm giving away – you know, only stupid people are going to give that."
"I don't take anything off the table," he added.
Roe v Wade: US abortion rights a year on

4. Trump is against full abortion bans
The former Republican president said members of his own party "speak very inarticulately" about abortion, and he criticised those who push for abortion bans without exceptions in cases of rape and incest, and to protect the health of the mother.
"I watch some of them without the exceptions," he said.
"I said, 'Other than certain parts of the country, you can't – you're not going to win on this issue. But you will win on this issue when you come up with the right number of weeks."
He did not state what kind of legislation he would sign to ban abortion after a certain number of weeks – or if he prefers the issue be solved at the federal level rather than on a state-by-state basis – but he tried to portray himself as a dealmaker who could unite "both sides".
5. Trump might pressure Fed to lower interest rates
He complained US interest rates were too high and indicated if he gets another term in office, he might pressure Federal Reserve chair Jerome Powell to loosen monetary policy.
He said: "Interest rates are very high. They're too high. People can't buy homes. They can't do anything. I mean, they can't borrow money."
Asked specifically whether he would try to strong-arm Mr Powell into lowering rates, Mr Trump said: "Depends where inflation is. But I would get inflation down."
Trump charges in 60 seconds

6. Trump likes democracy
Mr Trump claimed he still believes democracy is the most effective form of government – but added a key caveat.
"I do. I do. But it has to be a democracy that's fair," he said. "This democracy – I don't consider us to have much of a democracy right now."
He suggested US democracy was unfair because of the charges he faces for allegedly mishandling classified documents, trying to conceal hush money payments to women ahead of an election and attempting to overturn the 2020 election.
He added: "We need a media that's free and fair. And frankly, if they don't have that, it's very, very hard to straighten out our country."
7. Not afraid of going to jail
Despite facing four trials, Mr Trump said he's not consumed with visions of prison.
"I don't even think about it," he said. "I'm built a little differently I guess, because I have had people come up to me and say, 'How do you do it, sir? How do you do it?' I don't even think about it."
He later said: "I truly feel that, in the end, we're going to win."
8. Doesn't rule out pardoning himself
Trump declined to rule out pardoning himself if he becomes president again. But he called the scenario "very unlikely".
"What, what did I do wrong? I didn't do anything wrong," Trump said. "You mean because I challenge an election, they want to put me in jail?"
9. What about pardoning January 6 rioters?
Mr Trump said he views the prison sentences given to some January 6 rioters following the attack on the US Congress in early 2021 as unfair.
"We have to treat people fairly," he said.
"These people on January 6, they went – some of them never even went into the building, and they're being given sentences of, you know, many years."
Mr Trump was asked if he would pardon the imprisoned rioters.
"Well, I'm going to look at them, and I certainly might if I think it's appropriate," he said.
10. Trump says he won't seek a third term should he win in 2024
Mr Trump was asked if there was any scenario in which he would seek a third term should he win the presidency next year.
"No," he said, before criticising Republican rival Ron DeSantis, who has promoted his ability to serve two full terms rather than one.
The 22nd Amendment of the Constitution limits presidents to two four-year terms. That was enacted after former President Franklin Roosevelt was elected to four terms in office.
Read more:
What are the investigations Trump is facing?
History's most famous mugshots before Trump
It's very, very close – Trump could win again