A 'master manipulator' previously employed as deputy head at the private day school once attended by Prince George and Princess Charlotte has been jailed for 12 years after admitting child sex offences.
Matthew Smith, 35, began working at Thomas's Battersea, where he was also head of pastoral care, in September last year but was sacked two months later after he was arrested by the National Crime Agency (NCA).
George started at the school in 2017 and Charlotte in 2019 but both had left by the time Smith joined and there is no suggestion any of his offending related to Thomas's or its pupils.
Smith, from East Dulwich, southeast London, pleaded guilty to 22 offences, including encouraging the rape of a child under 13, causing a child under 13 to engage in sexual activity, and arranging the sexual abuse of a child.
Investigators found he was sharing abuse material on the dark web and had paid teenagers in India £65,000 to abuse younger children in India over a five-year period.
Smith was living in Nepal, where he worked at a school for most of that time but had previously worked in orphanages and for NGOs across India between 2007 and 2014.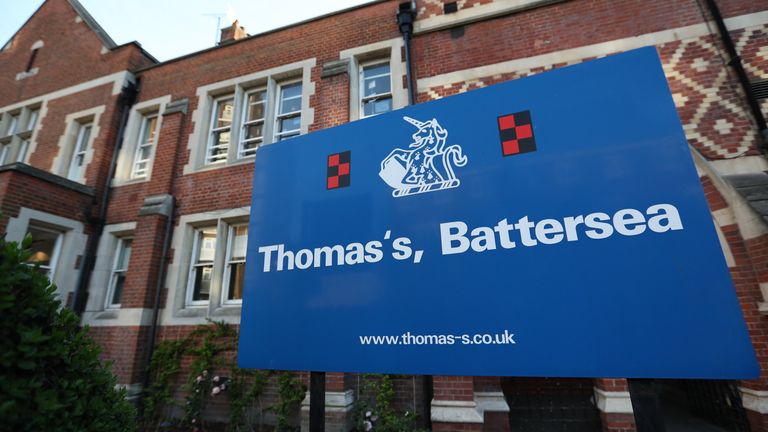 He moved back to the UK in July 2022 and that summer posted an advert online looking for a flat share in which he said he was a primary school teacher and could help with childcare.
But he was arrested before he was taken up on the offer and the NCA said there is no evidence he committed offences against children in the UK or in Nepal.
Smith was jailed for 12 years at Southwark Crown Court on Wednesday and put on the sex offenders register for life.
Read more from Sky News:
Oxford Street police patrols stepped up after TikTok mass crime threat
Police officers in Northern Ireland left 'incredibly vulnerable'
Helen Dore, Senior Officer of the National Crime Agency, said: "Matthew Smith is a prolific offender and master manipulator, who coerced young men into abusing children on his behalf.
"He constantly sought out opportunities to gain access to children, but was adept at hiding his sexual interest in them. He conducted his offending while working as a teacher and head of pastoral care – a deep betrayal of the trust placed in him.
"It's clear Smith has absolutely no empathy for his victims and the harm he has caused them. He presents a very real and significant risk to children, but this investigation has ensured he will spend a long time in prison.
"The NCA is committed to operating online and overseas, working with global partners to ensure that children are safeguarded and offenders like Smith are brought to justice."
A spokesperson for the school said: "We have been shocked and appalled beyond measure by this matter and are grateful for the work of the police and courts in bringing this man to account.
"Mr Smith's employment at the school, which commenced in September 2022, was terminated with immediate effect when the school first learned of the charges against him in November.
"While the National Crime Agency has confirmed that none of the matters under investigation related to the school or its pupils, these deplorable actions constitute an unforgivable breach of trust and our thoughts are with those who have been impacted or damaged by them.
"As always, we remain absolutely committed to the ongoing safety and wellbeing of our pupils and our whole school community."