Donald Trump has said he is against an age limit for running for US president but backed a competency test.
The frontrunner for the Republican nomination argued some of the greatest world leaders had been in their 80s.
But while Mr Trump did not think Joe Biden was too old, he said the current White House incumbent was incompetent, which was "a bigger problem".
The 77-year-old, who is three years younger than Mr Biden, made his comments in an interview with NBC's Meet The Press, which is due to air on Sunday.
Mr Trump also said he liked "the concept" of having a woman as a running mate as he hailed Republican South Dakota Governor Kristi Noem, who recently endorsed him at a rally, as "fantastic".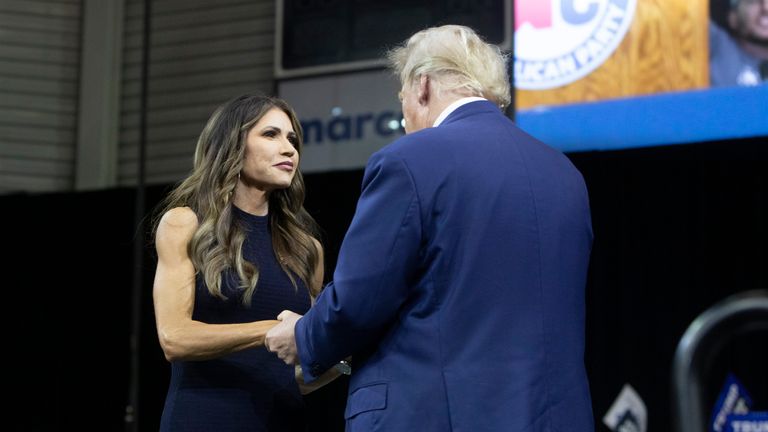 Although a favourite in the party race to go up against Mr Biden, he is facing multiple legal cases over claims including election interference, paying "hush" money to a former porn actress and stealing classified documents.
It saw him become the first former leader of the US in history to have his mugshot taken.
Believing there should be a competency test rather than an age cap for the top job, Mr Trump said: "You know, I took a test two years ago, three years ago.
"And as the doctors said – and it was in front of doctors and a whole big deal at Walter Reed (hospital), which is an incredible place.
"And I aced it. I get everything right. I'm all for testing. I frankly think testing would be a good thing."
It was not an IQ test, but a 10-minute screening used to evaluate mild cognitive impairment or early dementia.
Trump: 'I would never give myself a pardon'

He added: "A lot of people say it's not constitutional to do it. But I would be for testing, to test to make sure everyone's just fine.
"Some of the greatest world leaders have been in their 80s. I'm not anywhere very near 80, by the way.
"I don't think Biden's too old.
"But I think he's incompetent, and that's a bigger problem."
Read more:
Trump claims Biden can't 'walk or talk'
Trump joins list of history's most famous mugshots
Mr Trump also confirmed he left a note for Mr Biden when he left the White House in January 2021- a tradition for outgoing presidents.
He said: "I left him a note. I think it was very – it was a nice note. I took a lot of time in thinking about it.
"I'd love him to do a great job, even if it was very bad politically."
Asked in the wide-ranging interview if he was "leaning toward a woman" to share the Republican ticket, Mr Trump said: "I like the concept, but we're going to pick the best person."
Trump charges in 60 seconds

Governor Noem recently backed Mr Trump at a rally in the state, fuelling speculation she could be a likely contender for his vice presidential candidate.
He said: "She's been a great governor.
"She gave me a very full-throated endorsement, a beautiful endorsement actually. And, you know, it's been a very good state for me.
"And certainly she'd be one of the people I'd consider, or for something else maybe. But we have a lot of people. We have a lot of great people in the Republican Party."